Initially, I started with simple levels, trying to get player used to the environment and the game. Later I made levels of different shapes such as:
Oval, face, a set of squares, letters like RST, pine trees, whale, letter X, star.
The environment is divided into sets. Each set has 8 levels in them.
So, there are two themes of environment colors for 0-15 levels.
1. Forest
2. Autumn
Each of these levels have have transition from Day to Night.
I created different particles for the game.
Added four types of squirrel characters to the game.
1. Southern Flying Squirrel
2. Red Squirrel
3. Fox Squirrel
4. Eastern Grey Squirrel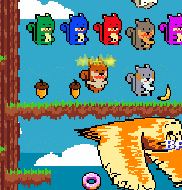 Good, bad and deadly food